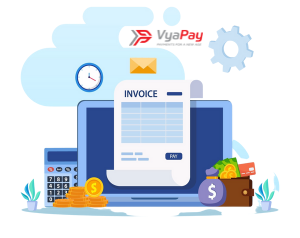 Boost profits, reduce costs with automation
If you've been thinking about updating your invoicing system, why wait? Modern, efficient billing methods are helping all types of businesses improve their productivity and bottom line.
Amidst today's price hikes, labor shortages and economic uncertainties, why stay stuck in manual, paper-based billing when embedded finance solutions can reduce costs, improve efficiencies and accelerate your billing cycle?
If you're still mailing out paper invoices, you could be incurring indirect and hidden costs, beyond paper, postage and labor. Let's put both systems to the test with a quick cost-benefit analysis of paper and electronic billing systems.
Biller costs
Simply stated, paper costs. Depending on the size of your company, mailing a paper bill could cost anywhere between $15 and $45 dollars per invoice. Direct costs include paper, ink and postage. Indirect costs include hourly wages of the employees who print out, mail and file the invoices. These costs increase in proportion to the size and scale of each business and its accounts payable processing system.
To get an idea of your costs, calculate your total annual AP budget and divide it by the number of invoices processed per year. For a more detailed cost-per-invoice assessment, review each step of your AP process, from creating and printing an invoice to mailing, receiving and processing payments. How many staffers are involved, what are their hourly wages and how much time do they spend on each step? The final number may surprise you.
Unfortunately, your costs don't end when the invoice goes out the door. You also need to factor in the time it takes for a customer to receive your invoice and mail back a payment. Add more time if there are errors or if customers question a bill, all of which adds up to hours and days of lost productivity that can hardly be compensated by late fees.
Payer costs
Now let's look at your customers. In the B2B world, most vendors and customers expect to pay invoices electronically, not just for ease and convenience but also as a tool to track remittances, outstanding invoices and historical payment data. They increasingly expect this data to be available online and integrated with larger, more complex accounting systems. Within these systems, your partners have set up their own unique rules engines and approval thresholds, which enable CFOs and controllers to authorize high-dollar invoices for immediate payments and take advantage of early payment discounts. Your customers can then track these approved invoices through their accounting systems.
Imagine the impact of a paper invoice on digitally savvy customers who are used to receiving electronic invoices. They would need to convert paper invoices to digital formats, which would require manual entry or digital scans by dedicated staff. Manual data entry would be prone to human error. Even OCR-enabled digital scans would slow down an otherwise fast, efficient, electronic accounts receivable process. These inconveniences push your customers back to the Stone Age while slowing down the billing cycle for them and for you.
Embedded finance
Buy now, pay later (BNPL) is a viral trend in the B2C space that gives consumers more options at the point of sale. During checkout, payers can select installment plans that cost them nothing, enabling them to pay for high-ticket items they would otherwise have not been able to afford.
BNPL schemes are enabled by embedded finance, a growing trend in both B2C and B2B environments. In the B2B world, it may not be getting as much press, but embedded finance is also giving customers a broader range of options and capabilities. Just for fun, let's call it Buy Now, Pay Now (BNPN).
Paper-to-electronic
At VyaPay, we help companies like yours build and scale B2B payment platforms that delight your employees and customers. We begin with a thorough review of your current system to identify gaps and areas in need of improvement. And we always begin by working with what you have.
As a leading payment facilitator (PF), PCI-compliant payment gateway and technology solutions provider, we're not here to sell you a new system. We simply enhance, connect and enable your existing infrastructure so you can do more with less.
Years ago, we took our own paper-to-electronic journey, when merchants brought paper credit card receipts to the bank every day. Most people don't remember what those days were like. And with luck, there may come a time when we have to remind you about those paper invoices you used to put in the mail.