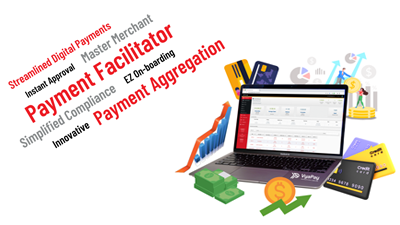 Transact faster with a payfac or aggregator partner

The digitalization of B2B products and services has given rise to secure, agile, intelligent and transparent methods of commerce designed to move at the speed of business. These services are liberating numerous industries from cumbersome, paper-based and manual methods of customer onboarding, invoicing, payouts and more, while being simple and easy to implement. 
It's easy to see why software companies and SaaS providers are gravitating to payment facilitation (PF) and payment aggregation (PA) models that seamlessly integrate into ecommerce sites, accounting systems, customer relationship management (CRM), enterprise resource planning (ERP) platforms and more. 
As many large and small organizations have found, the difference between aggregate models and legacy systems is like night and day. Both PF and PA systems eliminate errors caused by manual reconciliation, duplicate data entries and misplaced papers, improvements that will immediately impact your bottom line. Beyond that, there are subtle differences between the two models. Here are some tips to help you find the best payments fit for your business. 
Payment facilitators
A payment facilitator provides the necessary infrastructure for you to add new customers and have them begin accepting credit card payments as "submerchants" of a master merchant account. The PF underwrites and onboards these submerchants and provides them with the technology they need to process electronic payments and receive funds from those payments. 
Payment aggregators
A payment aggregator is a service that drives all payment flows through a single, centralized merchant account, without involving traditional banks or financial institutions. The PA does this by managing all electronic payments, effectively aggregating all transactions and transparently displaying real-time transaction data within a single online portal. 
Follow the rules
To help participating companies understand the rules for all types of payment aggregation, the payment card brands have published guidelines to help demystify the process. Visa states that all forms of commerce can be aggregated, from in-store environments to websites and mobile apps, all of which can help increase electronic payment acceptance for merchants who do not have a traditional acquiring relationship. As Visa points out, key parties are as follows: 
Acquirer: The merchant acquirer is responsible for both payment facilitators and sponsored merchants. 
Payment facilitator: As a third party agent, the PF can sign a merchant acceptance agreement on behalf of an acquirer and receive settlement of transaction proceeds from an acquirer, on behalf of a sponsored merchant. 
Merchant: A sponsored merchant is a merchant whose payment services are provided by a payment facilitator. Aside from rules that require an acquirer to sign the merchant agreement and settle, all Visa merchant requirements apply equally to a sponsored merchant. 
As Visa representatives have noted, all parties benefit from payments aggregation and payments facilitation. These benefits include reducing costs related to signing and supporting merchants, broadening the types of merchants eligible for payments acceptance and providing credit card processing services to merchants who had formerly only accepted cash and checks. 
Find the right partner
Today's business owners operate across multiple platforms and need equally robust, agile and efficient commerce solutions to meet the needs of mobile, digitized customers and employees.  Whether you choose to partner with a PF, PA or several specialty service providers, you will find that commerce enablement is just one of many benefits you can provide to your customers. To this end, it makes sense to find a partner that can strategically focus on your business and your unique requirements.  
VyaPay, a leading PF and PCI-compliant payment gateway, can help you navigate the numerous available services to create a fully customized, seamless, and integrated commerce experience. 
Our partnership will give you tools, ongoing support and up-to-date security and regulatory compliance to protect and enhance your core service offerings by directly embedding payments into your technology stack. 
Now that you've had a sampling of available options, it's worth noting that you never have to settle or compromise on a payments solution or model. Together, we will tailor a solution that delights your employees and clients and makes payments a seamless extension of your brand. 
Are you ready for next-level payment processing? Contact VyaPay today.