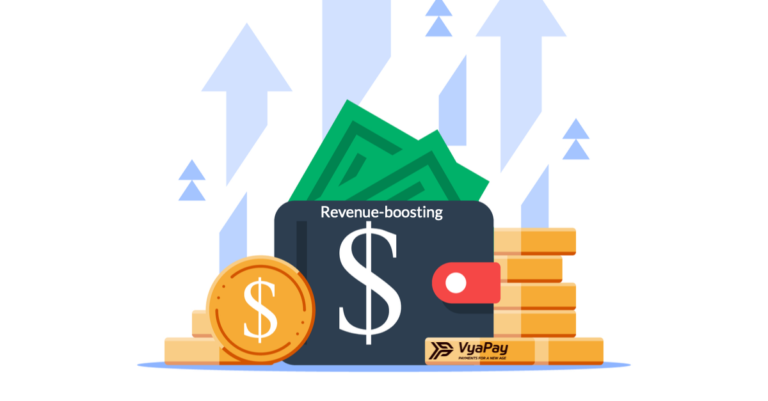 5 Revenue-boosting
Benefits of AR Automation


It may seem counterintuitive to discuss automation software with a software service provider. After all, who knows software better than you? You have harnessed automated technologies to build and scale your platform and give clients, partners and end-users a best-in-class customer experience. But are you getting paid as quickly and seamlessly as your deployments?
You'd be surprised how many leading enterprises struggle with cash-flow challenges. Recent supply chain bottlenecks and rampant inflation make it more critical than ever for companies to get paid on time. VyaPay helps business owners in multiple industries and sectors automate accounts receivable by enhancing their existing accounting systems.
Five ways to win
VyaPay solutions are not an add-on, plug-in or extension but a way to bring your accounting procedures together as a fluid, intuitive system that is native to your company and brand. Your accounting system, enhanced by VyaPay, will autonomously recover revenue on your behalf, allowing you to focus on more profitable business priorities. As your partner, VyaPay will help automate your accounts receivable and deliver these top five benefits:
1. Get paid faster – Your enhanced, digital-friendly accounting system will reach customers where they are, offering multiple payment options, such as an email link, pay-by-text or customer portal. This flexibility enables customers to pay on demand with preferred payment methods. Friendly reminders that offer single-click checkouts or links to secure portals go out automatically, eliminating tedious collection processes.
2. Accelerate Cash Flow – Your cash flow is the engine that powers your payroll, acquisitions, infrastructure investments and overall growth. Automated accounts receivable systems improve cash flow by putting the entire invoice lifecycle on autopilot, from initial bill presentment to payment and reconciliation, seamlessly managed by your accounting system. Friendly invoices and reminders, sent automatically, offer multiple, convenient ways to pay.
3. Improve Efficiencies – Your centralized, automated AR capabilities will save your business time and money by eliminating manual and paper-based tasks and improving access to customer records, profiles and preferences. Automated card updaters, synced with customer banks, will automatically refresh expired payment cards. By utilizing aggregated data within a centralized communications registry, you will find it easier to identify trends, manage cash flow, assets and resources and follow up on outstanding receivables.
4. Drive Process Improvement – Your automated AR system, further enhanced by built-in data analytics, will enable you to forecast cash flow needs more accurately while identifying at-risk customers and planning for the future. This intelligent system eliminates trail-and-error variable billing by invoicing correct amounts based on CRM or accounting system data without manually adjusting individual invoices. Having a single-access view of your balance sheet, customer histories and outstanding receivables will help you proactively mitigate risks and drive process improvement throughout your enterprise.
5. Empower customers and partners – Your automated AR system will delight your customers, clients and partners by making invoice payments simple, easy and fast. Invoices with embedded payment capabilities reach customers where they are and offer them multiple checkout options that facilitate single-click checkouts. The system will also automatically thank them for their payments and give them additional tools to track payments, balances and upcoming due dates.
Your automatic choice
Today's business owners operate across multiple platforms and they need equally robust, agile and efficient accounting systems that meet the needs of today's mobile, digitized workforce and business community. An integrated, fully automated AR solution will keep revenue flowing into your business across all payment channels, including paper and digital checks, ACH and EFT transactions, credit and debit payment within a secure and PCI-compliant platform.
No matter how you receive payments today, VyaPay can help you improve cash flow and optimize accounts receivable. As an AR automation leader, we can evaluate your specific needs and tailor solutions to maximize payments acceptance, chargeback management and commerce enablement.
Are you ready to accelerate your journey toward an improved bottom line?
Contact us for a no-obligation discussion.