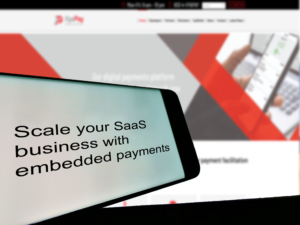 Scale your SaaS business with embedded payments

If you're looking to automate subscription billing, you're in a good place with embedded payments. Businesses from multiple industries around the world are attracted to SaaS, where failure rates are higher than growth potential. It takes more than product quality and specialization to succeed in this highly competitive space. Whether you're selling memberships, vitamins, apparel or NFTs, you need a robust technology stack to make it in this business.
Ideally, you need a technology partner who totally gets you to manage the payments side of things, so you can continue to do what you do best. At VyaPay, we work with a broad range of service providers that may look worlds apart on the surface. Behind the scenes, we're working 24/7 to power an array of financial services and create something magical – a payments experience that just happens, a commerce flow that is so deeply embedded in their product and service offerings that customers, partners and vendors never have to think about it.
Ultimate technology suite
Your ideal technology stack will offer frictionless billing paired with detailed, real-time SaaS metrics and reporting, enabling you to close the books, on time every time, while deriving a wealth of information about your downstream partners and end-user customers. In today's business climate of embedded commerce, there are multiple revenue streams flowing through your channels. As a payments facilitator, we help you aggregate payment flows from multiple sources to make them integral to your company and brand.
The billing component is just the tip of the iceberg. As your partner, we'll collaborate with you on a series of initiatives to create truly seamless invoicing, collections, accounting, analytics and checkout while reducing your financial exceptions and chargebacks. And we will automate recurring payments across your finance, accounting, ERP and CRM systems.
Let's talk about inquiries, exceptions and chargebacks. A variety of service providers claim to have your back with automated chargeback management, alerts and notifications. However, when it comes to risk management, you need more than automation and alerts; you need intelligence. That's where VyaShield comes in. Our chargeback management solution has graphical reporting tools and real-time analytics to help identify root causes of inquiries and exceptions and react before the transactions become chargebacks.
The VyaShield platform automates merchant chargeback responses, which would otherwise take at least 30 minutes to manage individually, enabling your staff to react within required windows. Our turnkey solution integrates multiple platforms, including Visa Merchant Purchase Inquiry (VMPA) and natively supports Visa's 3DS v2, to protect your payment flows and reduce exposure to all types of fraudulent transactions.
Developer support
In today's API-driven business landscape, service providers like to talk about their APIs and developer support, but those things are on the surface of a true technology partnership. In reality, if you really have to think about API libraries and self-help guides, you're not at the forefront of a deeper integration experience.
When subscription data flows smoothly across your finance, accounting, ERP and CRM and recurring payments ripple across your enterprise from checkout to reconciliation, you're not managing an API or looking for support. You're deeply engaged in a mutually profitable partnership that will take your business to a whole new level.
Our experienced team of engineers and industry experts will help you embed commerce directly into your platform, giving you end-to-end ownership of your digital transactions.
Together, we'll make payments an extension of your service and brand by implementing customized solutions that support your growing business and channel partner network.
As we mentioned earlier, if you're looking to automate your SaaS billing, you're in a good place and VyaPay can help. Contact #teamVyaPay for a discussion.