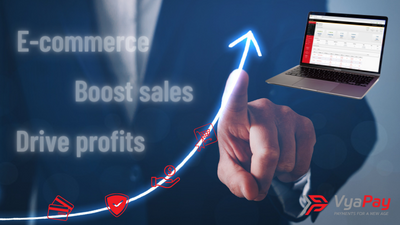 Boost sales, drive profits with next-gen ecommerce
When you hear "ecommerce," what's the first image that comes to mind? As professionals, we tend to imagine someone browsing and transacting on a computer, but that's only one small part of ecommerce. In today's hyperconnected world, card-not-present (CNP) transactions are big and getting bigger as consumers and businesses lean in to digital and mobile channels. 
A recent study by Juniper Research, Assessing the Smart Home Payments Opportunity, found a direct link between smart homes and ecommerce in these top three channels: 
Voice-assisted commerce: Facilitated by smart speakers in the home, this ecommerce method became popular during the pandemic, as people navigated hybrid work environments and asked their digital assistants to order takeout meals, office supplies and more. 
Smart TVs: Smart TVs are rapidly becoming a leading ecommerce platform by offering easy checkout options that users can access using a keyboard, voice command or remote control. When people were stuck at home during the pandemic, millions ordered digital content using payment cards on file at various streaming services. 
Smart appliances: While smart appliances are not scaling as rapidly as smart TVs or voice-assisted commerce, researchers expect to see more machine-to-machine commerce in the near future, such as refrigerators monitoring food levels and placing orders when supplies get low. 
Hybrid environments
Omnichannel commerce has also been a big want in the business community as companies of all types and sizes migrate to cloud-based and hybrid workplace environments. The impact of digital transformation can be felt in the offices where commuters once worked from 9 to 5, and in fixed hardware platforms on countertops where shoppers line up to check out. 
While offices and countertop terminals are still here, they coexist with alternative solutions that are not always purpose built to manage specific tasks. Today's workers do not always clock into offices; today's shoppers do not always check out at stores or restaurants; today's wholesalers and service providers do not always mail paper statements. Instead, they use a range of ecommerce and CNP methods. These agile ecommerce solutions improve efficiencies, helping businesses save time and money. 
All-in-one ecommerce platform
Today's business owners need to meet sales channel partners, vendors, and customers wherever they are, at all times and across all channels, including emerging technology platforms that leverage advanced, agile connectivity and sensemaking technology. Smart payment platforms, powered by interoperable technologies running in the background, enable businesses, partners and customers to connect and transact on demand from anywhere. 
At VyaPay, we help partners integrate commerce capabilities directly into their technology stacks to drive continuous improvement, from Accounts Payable (AP) and Accounts Receivable (AR) to ERP and CRM systems, creating a seamless, at-a-glance view of all transactional data. In addition, we leverage all types of ecommerce solutions, including these examples: 
Email links: Improve response times and get paid faster with "pay here" buttons embedded directly in emailed electronic invoices and payment reminders. 
Text-to-pay: Reach customers wherever they are by embedding payment links into secure SMS text messages to facilitate single-click checkouts. 
Mobile app: Drive convenience and repeat business with payment links within your mobile app. Consider applying for certification with reputable app marketplaces to expand your reach. 
APIs: Facilitate account-to-account payments through APIs, which can also accelerate your AP and AR by automating invoice and remittance procedures and processing. 
Request for Payment: Eliminate remittance wait times and reduce AP and AR burdens with Request for Payment (RfP), an account-to-account funds transfer method that leverages open banking. This method uses multi-factor authentication to make payments secure and has been shown to reduce fraud. 
Shopping Cart Integration: Make checkouts seamless and transparent with advanced shopping cart integrations that embed your payment processing directly into your checkout stream. 
Virtual terminal: Simplify payment management by creating a secure portal where customers can check out and obtain a single-access view of transaction data across your enterprise. 
ERP, CRM integration: Save time and money while driving continuous process improvement by embedding advanced, automated payment technology into your ERP and CRM systems.  
Grow and scale payments
VyaPay works with all types of businesses and industries, helping large and small enterprises  migrate from time-consuming legacy payment systems to advanced electronic payment processing that supports traditional as well as emerging commerce methods. 
As your payment facilitator and PCI-compliant payment gateway partner, we can help you grow and scale your business by giving you the tools, security, regulatory compliance and ongoing support you need to take commerce enablement to a whole new level. 
And the best part is, there's no need to wait for TVs, digital assistants or refrigerators to be ready for ecommerce. We can begin your digital transformation journey today.