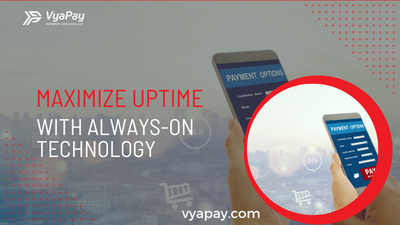 Maximize Uptime with Always-on Technology

As businesses around the world embrace real-time payments, it speeds our journey from analog to digital, improving access to products and services. An April 2022 study by ACI Worldwide, "Prime Time for Real Time," projects 427.7 billion real-time transactions will be processed in 2026, representing 25.6 percent of all global commerce combined. Researchers also found a direct correlation between real-time payments and economic growth. 
"The evidence is clear: real-time payments improve overall market efficiencies and boost economic growth by allowing for the transfer of money between parties within seconds rather than days," researchers wrote, adding that real-time commerce, powered by advanced technologies, provide cheaper, faster, more efficient ways to pay. These technologies are finding their way into a range of B2B and B2C digital apps and services, they noted. 
Researchers additionally noted that today's consumers and businesses expect on-demand, hyper-connected, frictionless commerce. Cloud-based, subscription-as-a-service (SaaS) models fulfill these expectations by powering a range of real-time solutions that customers, partners and suppliers can access via over the web, mobile apps and in-store kiosks. 
Compete in the post-digital world
Businesses that pivot to SaaS models can satisfy all stakeholders in the commerce value chain with nimble ordering and delivery options and secure online portals where merchants, vendors, partners and customers can place orders, track deliveries and communicate with customer service. SaaS and cloud capabilities enable your employees and IT teams to strategically manage operations, anticipate trends and securely deliver the following benefits: 
Accept real-time payments: As researchers mentioned, real-time payments are big and getting bigger, as companies around the world compete in "the new real-time, post-digital, cloud-first and data-centric business environment." 
Leverage cloud-based technology: Researchers also pointed out that cloud is not a destination but a vehicle that can drive payments modernization while mitigating fraud and improving business outcomes. By leveraging cloud technologies, users can use real-time, machine learning-driven decisioning to ensure payments are genuine, meet AML requirements and are being sent to the intended destination, they stated.
Optimize performance: Cloud-based models simplify commerce, end-to-end and provide merchants, vendors and customers with a single-access view of transactions, order history, accounting, logistics and payment flows in real time, while minimizing errors, reducing help desk calls and speeding billing cycles. 
Scale your business: Enterprises that get to market quickly are well positioned to compete and succeed in today's dynamic real-time business environment. Your cloud-based SaaS offerings are easy to configure, update, manage and deploy, providing a nimble solution stack and competitive advantage as you grow and scale your business, services, customer base and partner ecosystem. 
Always on, always connected 
Ultimately, your success will depend on having high-speed, always-on connectivity. Even short communication delays could result in lost sales or revenue, directly impacting your bottom line. 
Recorded outages at some of the biggest internet-era companies do not soothe nerves, leading to interest in multi-cloud approaches. Payment flows and connectivity at all times can be supported by a cloud service to enable resilience.
VyaPay, a registered payment facilitator (PF) and technology solution provider, helps companies of all sizes and industries establish fully integrated, redundant, always-on systems. We'll work closely with your IT teams and software developers to integrate digital commerce capabilities into your solutions. Unlike legacy payment processors, we will help embed real-time payments directly in your stack. Our partnerships, like our technology, are always on and always connected. 
Are you ready to make real-time payments an integral part of your technology and brand?