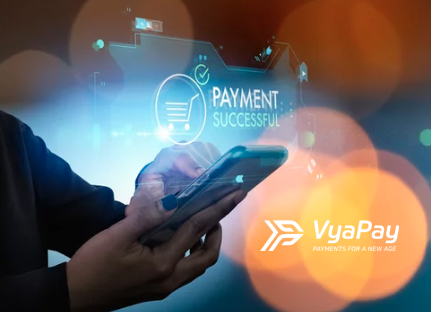 Empower your customer journey with embedded payments

Whether you're a digital native or digital newbie, a customer-first outlook will steady your company's path to digital transformation. As most companies would agree, customers are the lifeline of any business. The ability to meet them at every digital touchpoint of their customer journeys, from initial onboarding to ongoing support, engagement and loyalty, is a fundamental necessity for today's business owners.
Digital solutions run circles around traditional legacy systems. Advanced technologies, strategically integrated within your stack, will do more than improve efficiencies, they will also drive profitability and delight your customers. Today's digital solutions are agile, secure, and intelligent, but most importantly, they just work. One-click checkouts, powered by embedded commerce, are an expectation for today's customers who transact across multiple channels using wearables, tablets, smartphones, and other connected devices.
Begin with payments
Digital technologies are a big want in the B2C and B2B worlds, but each enterprise needs to chart its own transformational path while finding ways to layer in capabilities without disrupting client, partner and customer relationships. Making commerce invisible and intuitive would be a great place to start.
With payments a common denominator in your customers' digital lives, it makes sense to incorporate advanced payment technologies into your stack. Building commerce enablement into every digital touchpoint will engage your customers as they check stock availability, comparison shop, place orders, track orders and apply for subscription services.
Facilitate commerce
While there are numerous approaches to digital commerce enablement, most companies look for solutions they can fully control, without having to rely on third-party service providers. Cloud-based technology solutions make it possible for enterprises to fully manage processing solutions without relying on an outside service or having to invest in costly in-house infrastructures. In fact, it is possible to fully embed advanced, automated technologies into your solutions and services when you partner with a payment facilitator (PF).
VyaPay, a leading PF and PCI-compliant payment platform, can help jumpstart your digital journey, whether you're a traditional player looking to replace manual, paper-based systems with agile digital solutions or a next-gen innovator looking to enhance existing SaaS offerings. Our partnership will give you tools, ongoing support and up-to-date security and regulatory compliance to protect and enhance your customers' digital journeys.
Foster trust
At VyaPay, we specialize in all of the nuances of payment processing so you can focus on your core product offerings. By deeply embedding our solutions within your stack, we give you the autonomy and agility to accelerate your growth by making financial services seamless and an integral component of your company and brand.
As your dedicated resource for all facets of payment processing, VyaPay will continuously update your platform to keep it compliant, up to date and seamlessly assimilated into your accounting, ERP and CRM systems, replacing repetitive and tedious reconciliation processes. In addition, we will automate business-critical solutions, such as chargeback management and fraud protection, to enable you to monitor, detect, and swiftly mitigate risk and threats.
Customer first
If this all seems too good to be true, we get it. It's hard to explain our business model and capabilities in a few words, especially when we enter each partnership with an open mind and blank canvas. Our partnerships, like your customers, are the lifeblood of our business and our flexible, scalable platforms create an environment that supports and accelerates their growth.
As part of our growing partnership network, you will share in our insights, referrals and innovations as we build next-gen vertically-focused platforms together. Bottom line, we put you first so you can put your customers first.
Contact VyaPay today and let's discuss how we can enrich your digital customer experience.