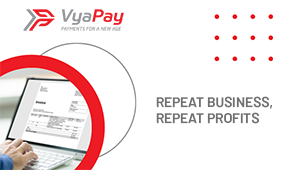 Five secrets of SaaS billing leaders

Seamless integrations are the hallmark of successful independent software vendors (ISVs). VyaPay is privileged to partner with industry-leading ISVs on a range of specialized service offerings. While their specializations may differ, most ISVs view user-friendly subscription billing invoicing as a key component of their growth.
In recent years, companies of all sizes and types have shifted focus from ownership to more flexible service models. Capital depreciation, write-offs and obsolescence seem out of date in today's business community, where leasing, rental and subscription services protect assets and keep them up to date. SaaS-based revenue models do more than replace heavy front-end investments; they improve efficiencies and drive recurring revenue streams.
VyaPay helps software service providers create one-of-a-kind subscription billing services that address the specific needs of their industries and clientele. Our tools make SaaS revenue models more efficient, which will help you, your partners and their customers have a better experience.
Here are five secrets of SaaS revenue modeling from successful VyaPay partners:
1. Automated billing processes
VyaPay's recurring payment solutions streamline all types of monthly subscription models, providing partners with a single-access view of subscription billing and one-time charges, refunds, adjustments and fees. Our integrated, end-to-end solution gives you more control of all billing while linking it to all related systems across your enterprise.
2. Branded, tailored invoicing
VyaPay collaborates with partners to create customized, branded invoices that incorporate all essential information about each product and service sold. Making invoices clear, legible and relatable has been shown to improve customer confidence and reduce inquiries and chargebacks.
3. Systemwide payments integration
VyaPay's APIs, resources and support services help developers integrate payment processing, accounting and customer relationship management (CRM) systems into recurring billing models. These seamless integrations simplify all aspects of credit and refund issuance, general ledger updates and journal entries by connecting each invoice to all systems throughout an enterprise.
4. Pre-scheduled updates, billing
VyaPay knows accounting departments have better things to do than invoice repeat customers every month. Replacing manual processes with automated, pre-scheduled billing will free your finance teams to focus on high-value priorities while having a single-access view of all recurring and non-recurring customer contracts. These invoices are automatically updated, without the need for human oversight, to reflect mid-contract changes.
5. Transparent, real-time decisioning
VyaPay drives real-time customer insights by aggregating revenue data to identify business trends and customer behavior. These advanced, predictive analytics pinpoint high-risk individuals and loyal, repeat customers. You can leverage these tools to improve forecast capabilities, efficiently manage your customer base and create customized reporting.
Repeat business, repeat profits
VyaPay wins when our partners win. Our customized SaaS-based solutions drive continuous revenue, enhanced by real-time sales data, robust online reporting, right-sized solutions and wholesale B2B processing to deliver big savings and recurring revenue streams.
Discover our elegant, embedded commerce models and truly seamless integrations, designed to take your CRM, ERP and accounting systems to the next level. Transform your B2B experience by accepting in-store, Card Not Present payments and all major card brands, ACH, eChecks, 3D Secure, 3DSv2 and cross-border payment schemes.

If you're not getting the most out of your current processing relationship, consider arranging a no-obligation analysis of your current bill pay and processing services. Put VyaPay's premier payfac, chargeback management and bill pay solutions to the test.
Set yourself up for repeat success and scale your business faster with VyaPay.