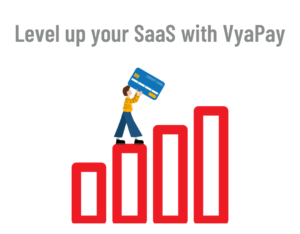 Level Up Your SaaS With VyaPay
Can you remember the precise moment when you shifted to a SaaS business model? For some companies, the change happened gradually over time. For others, it was an overnight pivot to the cloud. And for digital natives who have never known anything else, the cloud-based subscription model has always been the only game in town.
Your employees also bring different attitudes and approaches to technology, from service desk representatives asking callers, "is it plugged in?" to sales professionals explaining APIs to clients, to engineers delivering flawless connectivity, instant onboarding and real-time reports.  
Regardless of how you arrived at a SaaS-based model, you probably enjoy doing more with less. Your subscription service offering drives continuous improvement all the way down the line,  from sales channel partners to merchants to end-user customers, providing all stakeholders with easy access, transparent pricing, and recurring benefits.
Distributed, democratized
Another benefit of SaaS is its ability to extend your customer base by making your products and services available to a wider audience. For a nominal recurring fee, subscribers can access your programs on the internet without having to pay a heavy, up-front investment or download proprietary software. This makes it easier for users to "set and forget" by placing a payment method on file and simply enjoying your services on demand from anywhere.
Users appreciate your SaaS program's automatic updates, abundant choices and occasional upgrade opportunities. They know that at any point in the customer lifecycle, they can opt in or out of services without being responsible for hardware or software updates, as these upgrades are an integral part of your subscription service and provided free of charge.
Next-level SaaS
You may not remember the moment when you chose a SaaS-based model but you will  probably never forget the exact moment when you realize you need more tools, resources and support to take your business to the next level. That realization and decisive milestone in your SaaS journey can be triggered by any number of warning signs, including these red flags:
Integration pain: It takes a village to sort out what used to be easy, breezy integrations. Sadly, it's your village and your IT professionals who could be working on more important matters.
Third-party lockdowns: Third-party vendors may use proprietary software with restricted access or private keys. Yes, it still happens. Some vendors even hide the key behind a pay wall.
Security alerts: Auditors may point to flaws in your backend data centers that expose sensitive information, creating additional vulnerabilities for everyone on your network. Costly security and compliance measures can impede your growth and impact your bottom line.
Development issues: Surprisingly, SaaS programs are not always easy to update, especially when the updates involve additional features and functionality to the user interface.
Performance challenges: Any number of factors can impact your SaaS offering's security and performance, including scheduled and unplanned maintenance, malicious attacks and connectivity issues.
Level up with VyaPay
Growth pains are inevitable as you grow your business and subscriber base. Your engineers, IT specialists and software developers have done a commendable job of managing technical issues, software updates, security compliance and support services from a centralized hub. At some point, you may find it necessary to back them up with additional expertise and support.
VyaPay works with all types of software service providers and industries and we have seen this growth curve happen again and again. The good news is you're doing everything right and the even better news is we can help you take your business to the next level while preserving your autonomy and control.
As a leading PayFAC provider and PCI Level 1-certified payment gateway, VyaPay gives business owners the agility, connectivity and flexibility needed to grow and scale. We will collaborate with you and your team to build and scale customized subscription services designed for your business, industry, and partner requirements.
Together, we will improve efficiencies by embedding digital tools, automated technologies and commerce enablement into your service offerings while enhancing the overall experience for you, your partners and their customers. 
If you've reached a critical juncture in your SaaS journey, let's celebrate that milestone by building a future that supports continuous growth.