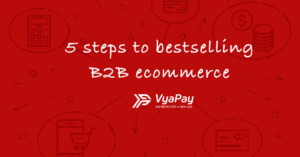 5 steps to bestselling B2B ecommerce
If you've seen an uplift in ecommerce activity in the past two years, you're in good company. Online commerce is on track to exceed $1 trillion in 2022, according to Insider Intelligence blogger Alicia Phaneuf. In a recent post, "Ecommerce Statistics: Industry benchmarks & growth," published Jan. 8, 2022, Phaneuf noted B2B ecommerce is big and getting bigger.
"Seemingly every aspect of business was moved or accelerated towards a digital structure amid the pandemic, including B2B communications," Phaneuf wrote. "New B2B ecommerce trends are allowing companies to lower marketing expenses, better manage suppliers and customers, and boost sales engagement."
If these benefits have a familiar ring, you've probably seen them at work in the B2C sector, where retailers constantly tweak ecommerce to keep customers secure, fulfilled and engaged. So why not borrow a page from retail's ecommerce playbook? You may not patronize the same marketplaces as retailers, but you can boost conversions and gain and retain more customers with these five proven, highly transferable tactics:
Flexible terms, options: Partners, suppliers, distributors and customers expect a full array of options throughout a transaction lifecycle, from initial purchase order to fulfillment. Repeat customers with payment cards on file and new customers applying for lines of credit will measure success by your available options in payments, currencies, terms and financing.
Frictionless checkouts: Checkout is sometimes called the last mile of the customer journey, which can be misleading, because the customer journey actually begins at checkout and ideally continues with positive reviews, social media engagement, upsell opportunities and referrals. None of these things would happen, however, if your customers abandon their shopping carts or checkouts due to a subpar checkout experience.
Expeditious delivery, pickup: In retail and business-to-business ecommerce, a frictionless checkout experience would mean little if there are delays or disappointments with pickup or delivery. Your customers and partners need an array of logistical options backed by excellent customer service and transparent order tracking. In short, an omnichannel fulfillment strategy will offer multiple pickup and delivery options to meet everchanging customer requirements.
Personalization at scale: Retailers leverage advanced analytics, transactional data and customer profiles to send targeted offers to select customers based on their buying histories, preferences and areas of interest. In a similar way, you can create B2B email blasts and ad campaigns for select customer segments to help drive traffic to your ecommerce sites.
On-demand customer service: Meeting customers where they are is a critical requirement, especially when it comes to customer service. In today's on-demand economy, customers need to reach your customer support representatives 24/7 by phone, text, online chat, email or on premises, using their preferred communication methods. In addition to live support, automated technologies can swiftly respond to chargeback inquires and secure web portals can assist with real-time order tracking.
Next-level B2B ecommerce, delivered
How many software programs have you added in recent years, as you've grown your company, and how well do they communicate with each other? Partnering with an established payment facilitator (PF) will drive end-to-end profitability and bottom line benefits beyond ecommerce websites and shopping cart integrations.
A PF partner will help finesse all integrations across your enterprise to make payment flows a seamless part of your ERP, CRM, accounting and billing systems. With a PF partner, you can streamline internal and customer-facing points of interaction. Flexible terms and financing, expedited delivery, personalization at scale and excellent customer service will be a snap.
Best of all, when you partner with VyaPay, an industry-leading payment facilitator, gateway and B2B ecommerce specialist, you can have ecommerce your way. Why borrow a page from a retail playbook when you can write your own? You bring the ideas. We'll bring the technology. Together, we'll write an ecommerce bestseller.